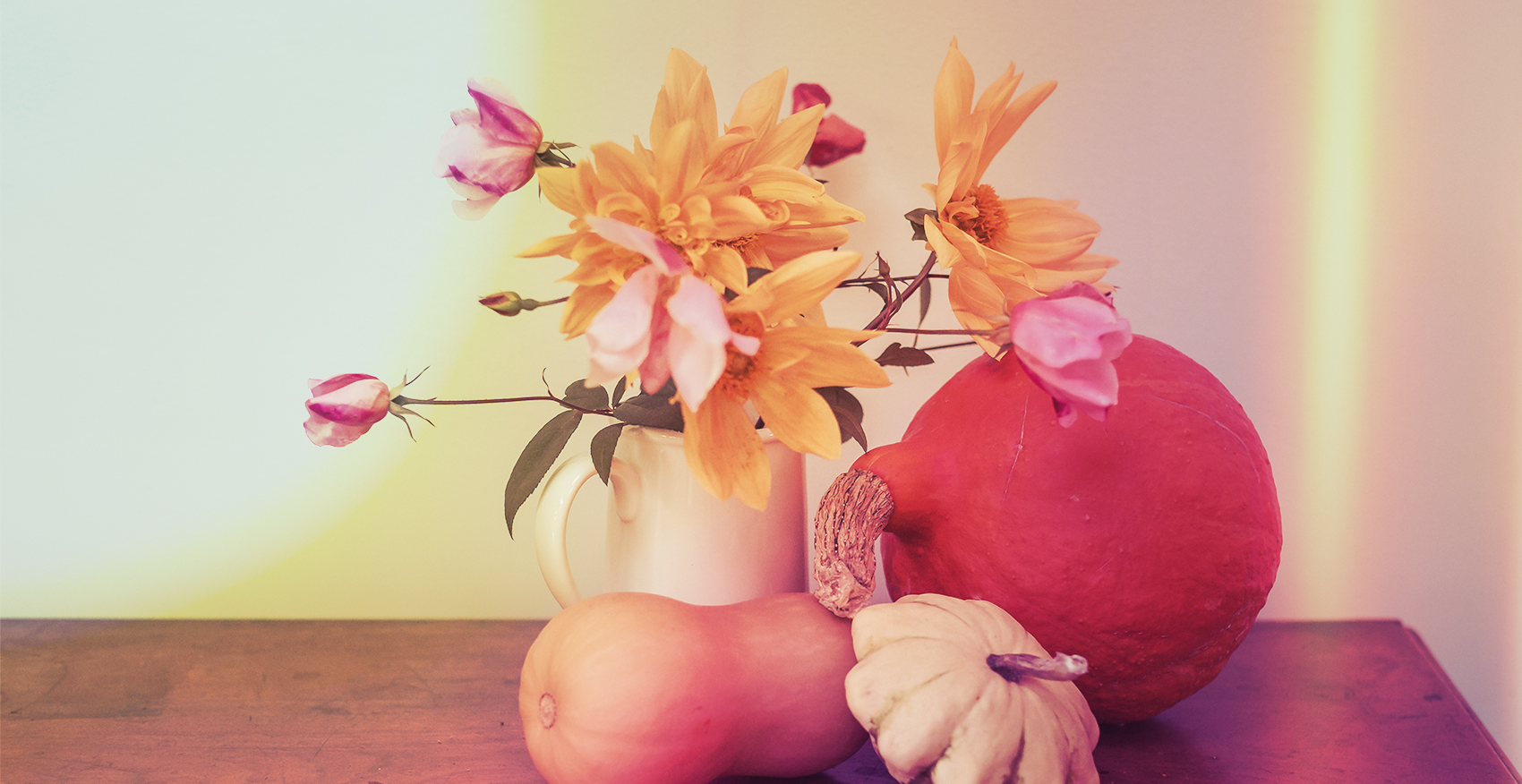 Ready for one of the most momentous astrological months of the year? 💫
There are SO many major planetary shifts and changes coming in this month that are starting to usher us into 2019, giving us a sneak peek at what is to come as we are flooded with a fresh burst of new energy that will be undeniably palpable.
First off, the Sun continues swimming through the darker waters of  ♏️ Scorpio – the sign of shadow work, endings, release, and emotional introspection – until November 22. During this time, we are meant to be re-evaluating our lives by looking at everything we are doing in our life & career from a bird's eye perspective to get to the core of what feels off!
A New Moon in Scorpio on November 7th will be the ideal time to set your intentions around where in your life & career you are ready to transform to the next level, and a positive angle between Jupiter and the North Node of Future Destiny makes this an especially auspicious time to get out of your own way and embrace your higher potential. ⚡️
The very next day, prosperity planet Jupiter will officially finish its run through Scorpio, where it has been for the last year, bringing fresh opportunities into a whole new area of our lives that haven't gotten an extra dose sparkle like this in nearly 12 years, as it moves into its home sign of Sagittarius on November 8th.
As if that wasn't enough to keep us busy, Venus Retrograde will be ending just as Mercury Retrograde begins bringing a whole new round of confusion to our plans & ideas on November 16th! Plus, the same day the Sun moves into Sagittarius, we'll be celebrating a socially intense Full Moon in Gemini on the 22nd – a.k.a. Thanksgiving in the United States. 🦃
And would you believe that this is only half of it? 2018 is clearly not going out without a BIG BANG!
Find out more about what's in store for this month in the latest Monthly Forecast below…



Upcoming Events:
November 6: North Node in Cancer and Uranus moves into Aries
November 7: New Moon in Scorpio (Jupiter trines NN)
November 8: Jupiter in Sagittarius
November 16: Venus Retrograde Ends + Mercury Retrograde Begins
November 22: Sagittarius Season Begins + Full Moon in Gemini
November 24: Neptune Retrograde Ends
November 25: Sun conjoins Jupiter
>> If you're located in Australia or NZ, you may need to add +1 day to the dates above.
---
☾ Download a free Moon Calendar for November ☽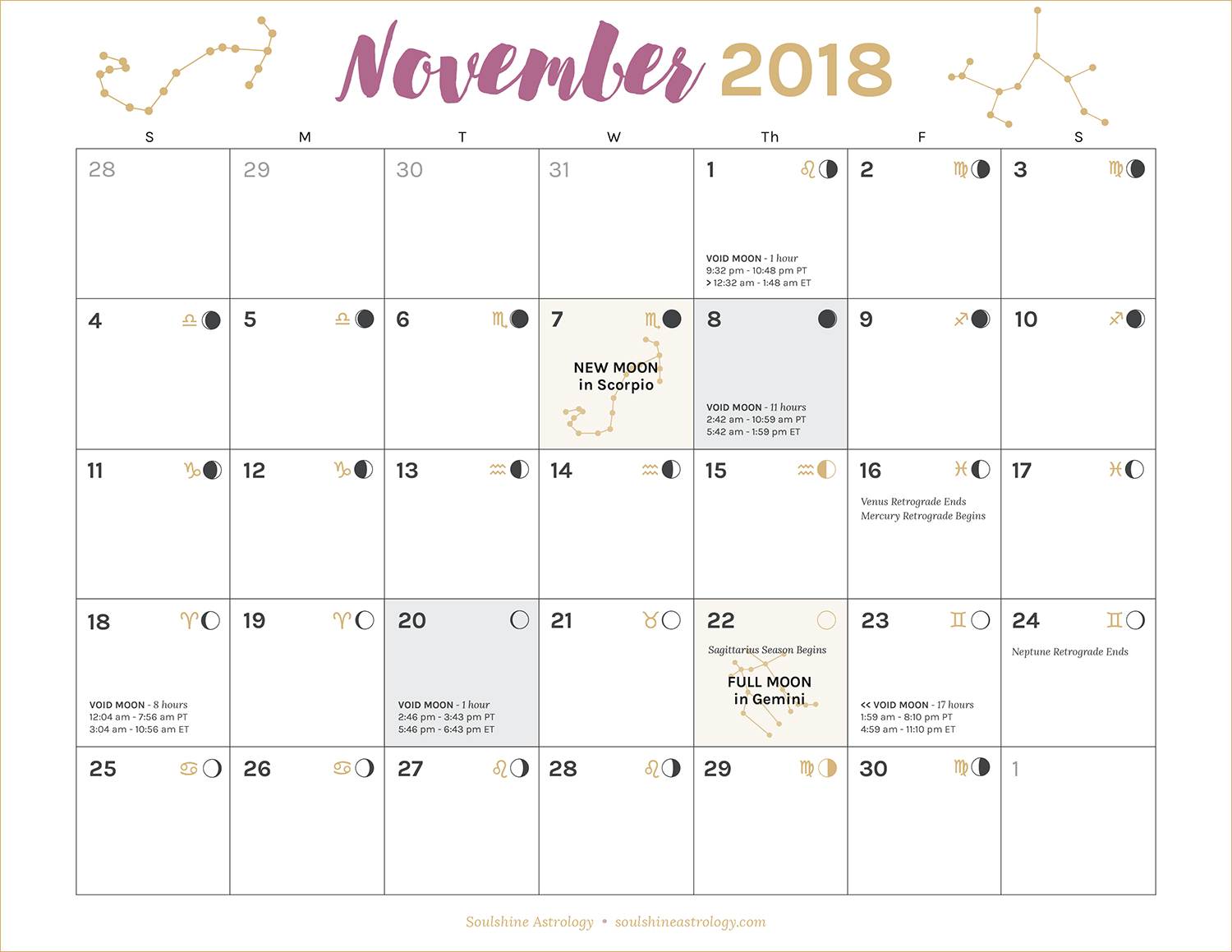 Sign up to receive this handy lunar calendar in your inbox each month so you can download or print it off and consult the moon as you plan your month. It shows all of the most major astrological events and moon phases, including Void Moon times to avoid productive work, and your most productive Power Moon Days (plus an explanation of what all of those are) to help you plan your life + career in alignment with the cosmos.
*Available in 3 different versions for America & Canada, UK & Europe, and Australia. 🌎

>> You can also follow along on Instagram / Facebook / Twitter with me to keep track of each moon phase and learn how to use the moon to your advantage along the way.