Hello February! We are already cruising through 2018 so quickly and so far there haven't been too many dull moments in the sky. Now, in the thick of Eclipse Season for most of this month, we are in the midst of immense realizations about things that we need to change in order to evolve to the next level of conscious awareness in our lives & careers.
We are also in ♒️ Aquarius Season for the next few weeks and this is the sign of community outreach as well as doing things a little bit differently than we have in the past!
Finally, we head into ♓️ Pisces Season on the 18th. With Aquarius being an Air sign – which is all about communicating, sharing ideas, and considering intellectual concepts – we will be shifting out of 'Air' into 'Water' – bringing a little more of a reflective time for emotional renewal and getting in tune with the dreams & creative visions that nourish your spirit.
Find out more about what's in store for this month in the latest Monthly Forecast below…



Major upcoming events:
February 3rd & 9th – The Sun & Mercury align with the South Node of Past Karma
February 10th – Venus moves into Pisces
February 15th – New Moon Solar Eclipse in Aquarius
February 18th – Pisces Season Begins
( March 1st – Full Moon in Virgo )
>> If you're located in Australia or NZ, you may need to add +1 day to the dates above.
---
☾ Download a free Moon Calendar for February ☽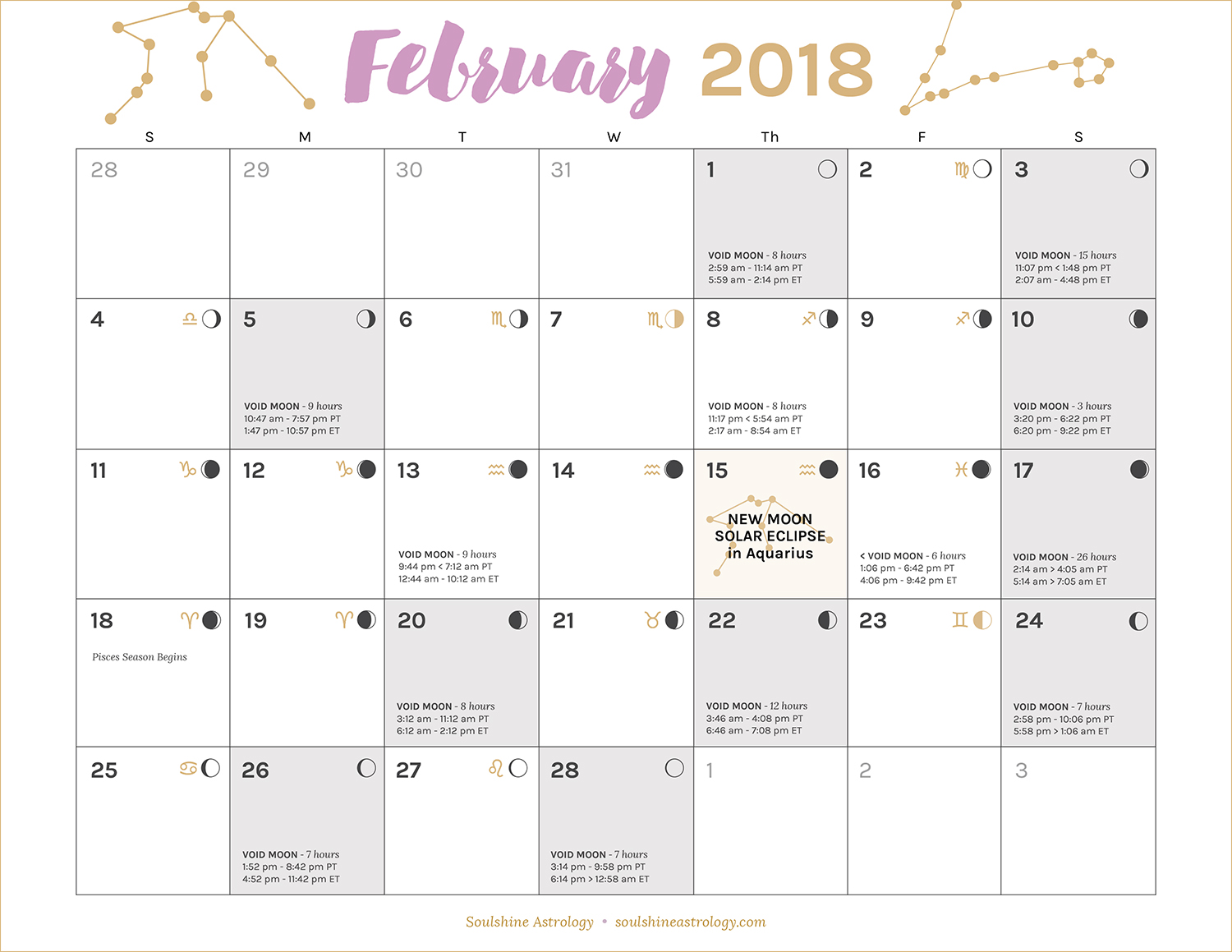 Sign up to receive this handy lunar calendar in your inbox each month so you can download or print it off and consult the moon as you plan your month. It shows all of the most major astrological events and moon phases, including Void Moon times to avoid productive work, and your most productive Power Moon Days (plus an explanation of what all of those are) to help you plan your life + career in alignment with the cosmos.
*Available in 3 different versions for America & Canada, UK & Europe, and Australia. ?

>> You can also follow along on Instagram / Facebook / Twitter with me to keep track of each moon phase and learn how to use the moon to your advantage along the way.